How to setup a Windows Group monitor for CPU, Memory, Diskspace instead of setting up a monitor for them individually.
Click on the Monitors tab and then select "+Add" to add a new monitor. From the dropdown list choose Windows Group.
Begin to fill in the configuring settings for monitoring that particular Windows machine.
Under Failure Conditions fill in the Threshold percentage when you want to notified.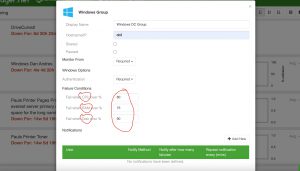 Now you are ready to setup the Notification when the "Threshold" is met. Click the "+ Add" new under Notifications.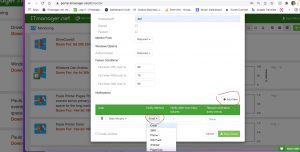 Then under the "Notify Method" chose how you would like to be notified(email, SMS, Phone, iOS push, Android).
Click Save.
Still have questions?
Call us at: 1-800-371-4841