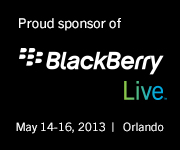 The month of May is going to be an exciting time for Smarter Apps. The ITmanager.net team is working hard to wrap up support for BlackBerry Enterprise Server and BlackBerry devices on the upcoming release of ITmanager.net.
BlackBerry Live Conference
To celebrate the launch of BlackBerry support for ITmanager.net, Smarter Apps is heading to BlackBerry Live May 14th, 2013 as a BlackBerry Live sponsor.
BlackBerry and ITmanager.net want you to join us May 14-16 in Orlando, Florida. Register today and use the code DSPNX6and enjoy a $50 USD discount! Register now for BlackBerry Live! Come visit Sean, Paul, David, Bradley and James at the ITmanager.net booth!
The ITmanager.net app will be available in May for Java BlackBerry devices and BlackBerry 10 devices from the BlackBerry World store.
About ITmanager.net
The ITmanager.net app allows system administrators to manage their critical servers from their smartphone or tablet. ITmanager.net supports managing the Amazon AWS, Google Apps, SSH, Telnet, VNC, RDP, ARD, and Windows Servers. Support for the BlackBerry Enterprise Server is coming in May!
To learn more about ITmanager.net, please visit our features page.
How to download ITmanager.net
ITmanager.net is currently available for download from the App Store and will soon be available in the BlackBerry World store.
ITmanager.net comes with a 14 day trial, afterwards a subscription must be purchased in order to unlock the management tasks functionality. Pricing starts at $2.99/week, $9.99/month or $99/year (USD).
About Smarter Apps
ITmanager.net was released in August 2012 by Smarter Apps Inc. The people of Smarter Apps are the creators of the first mobile network administration app, Idokorro Mobile Admin and also the creators of the BlackBerry App World storefront. Millions of mobile users use apps created by the Smarter Apps team every day. To learn more about our management team, go to our company page.