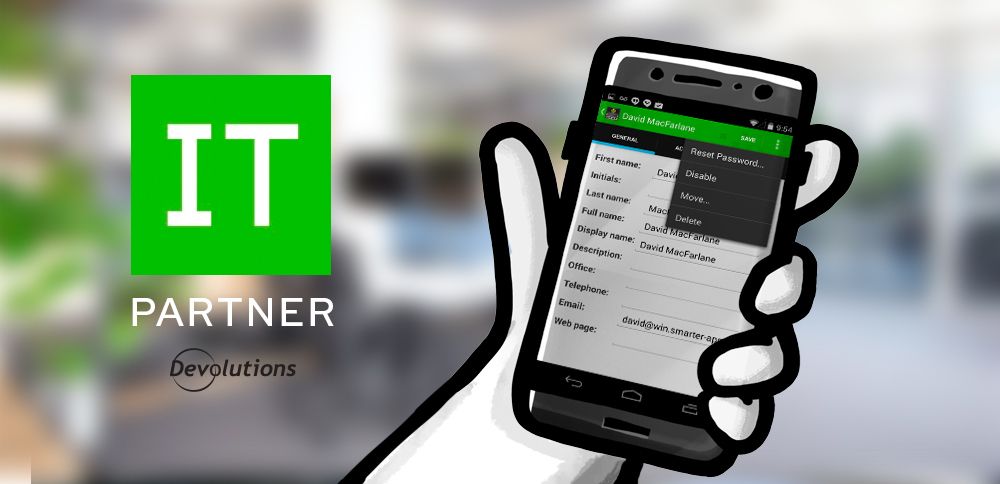 The ITmanager.net team has been working hard over the last 10 years building the ITmanager.net product and cultivating our global community and its customer base. We want to thank you for being loyal customers of ITmanager.net.
Today, we have some very exciting news! To continue growing ITmanager.net, we have decided to join forces with the excellent team at Devolutions to create a new technology partnership. Please continue reading to learn more about this partnership, and discover how it will benefit our users moving forward.
About Devolutions
Devolutions, headquartered near Montreal, Quebec, is a global leader that helps IT pros and teams simply and effectively achieve their cybersecurity, password management, remote desktop management, and privileged access management goals at affordable prices.
Devolutions' flagship solution, Remote Desktop Manager (RDM), centralizes remote connections on a single platform securely shared between users and across entire teams. With support for hundreds of integrated technologies, built-in enterprise-grade password management tools, global and granular-level access controls, and robust mobile apps to complement desktop clients, RDM is a complete IT toolbox for remote access and trusted by more than 800,000 users in over 140 countries.
About the Partnership
The main characteristic of this partnership is that ITmanager.net and Devolutions are in total alignment with respect to values and vision. In fact, both of our companies launched around the same time in 2010, and over the years we have — in our own respective ways and methods — grown and thrived. Here are just some of the things that both of our companies have in common:
We each have an incredibly loyal global user community of IT pros.
We have each build a reputation based on honesty, excellence, trust, and always doing what is best for our users.
We each have a total, unwavering commitment to constant improvement and raising the bar — which is the basis for this technology partnership (as we will discuss in the next section).
We would also like to point out that the people who lead and work at Devolutions are both incredibly smart and extremely friendly. The moment that we met Devolutions' CEO David Hervieux, and were then introduced to his outstanding leadership team, we knew we had immense synergies. What started out as an informal chat a few years ago, has grown into an exciting and professional relationship!
What You Can Expect
When considering this technology partnership, the most important question we had to answer was not "Would this be good for us?" but rather "Would this be good for our users?" The answer is a clear and unequivocal YES.
Over the coming months we will be taking many of the features and functions that make ITmanager.net so popular and versatile, and integrating them into Devolutions' Remote Desktop Manager solution — and in particular, their mobile apps.
Per this ongoing process, users who switch from ITmanager.net to Remote Desktop Manager will enjoy the best of both worlds: ITmanager.net's exceptional and world-class mobile app capabilities, and Remote Desktop Manager's phenomenal remote connection tools and technologies. This combination will unlock a whole new level of performance, productivity, efficiency, versatility, and usability.
We also want to highlight that, just like us, Devolutions takes the protection of user data (both in-transit and at-rest) extremely seriously, and has a wide range of security and governance measures in place. Devolutions also offers a cloud-based password management solution called Devolutions Hub Business, and an on-premise privileged access management (PAM) solution called Devolutions Server, so you can be assured that they know A LOT about compliance and keeping data safe!
How This Affects Our Users
To ensure that our users are supported, we will keep the ITManager.net service fully operational until August 2026. Rest assured that you will not experience any disruption or degraded performance during this time.
To facilitate this new technology partnership with Devolutions, starting in November 2023 we will cease selling new ITmanager.net licenses. Current and prospective customers will be encouraged to purchase a Remote Desktop Manager license. Various options are available, and Devolutions is well-known in the industry for having very affordable pricing suitable for solo IT professionals/consultants, as well as small and mid-sized businesses (SMBs).
We Are Here to Answer Your Questions
While this technology partnership is exciting and the potential is immense, we appreciate that change — even the positive kind — can sometimes be a little unsettling. Should you have any questions or concerns, please reach out to us. You are also welcome to connect with the Devolutions team. You can rest assured that they are as customer-focuses — or make that customer-obsessed — as we are!
Thank you for being the most important part of the ITmanager.net journey and story. We hope that we may continue serving and supporting your needs through this technology partnership with Devolutions!