We are excited to announce the release of ITmanager.net 7.7!
We added a lot of exciting new features. Enjoy these great new enhancements.
Microsoft SQL Server management
We added support for Microsoft SQL Server management to our iOS, Android and Web apps. You can manage databases, tables, logins, send queries and more from ITmanager.net.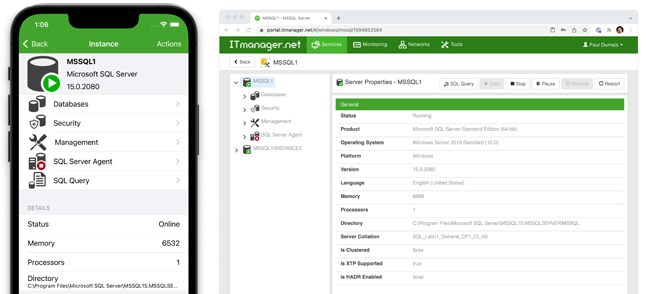 MySQL
We have also added similar MySQL management to our iOS and Android apps. Our web app will support this in the future.
Bulk Editing
We also added the ability to bulk edit managed Services, as well as Monitors. You can quickly select a large number of items and edit their values, such as authentication or network. Then save them with one click. This new bulk editing feature is included in all 3 of our apps.
Security
As you may know, we have included two factor authentication using authenticator apps such as Google Authenticator, LastPass, 1Password and more.
We added an additional method for two factor authentication. You now have an option to have a code sent to you by SMS, Email or a Phone call.
We also added login notifications. An email can be sent every time a new device gets logged into your ITmanager.net account, with details of the location and device that was used to login.
Improvements
Additionally, we improved Amazon Web Services management. The same AWS management features are now included in all 3 of our apps.
Lastly, we added the ability to copy services and monitors to the web app. Simply click the copy button to copy an item. As well you can click "Create another" when creating items to make similar copies of services or monitors.
This release also includes bug fixes and minor enhancements that improve the quality of the ITmanager.net product.
ITmanager.net is available as a 14 day free trial. Find it here: